Turmeric tea and research
Have you noticed all the kinds of turmeric tea on the market?
They have been there for a couple of years … but now I have finally tasted some of them. The taste can be discussed 😉
Quite in contrast to the qualities.
Turmeric has so many fantastic qualities you can't live without, and many of these even well documented…
Find 11 different varieties of turmeric tea, click here.
Shortly about benefits and links to research
Teas with turmeric have become extremely popular in the last couple of years and now you will find several teas with turmeric.
The turmeric superpowers are due to the strong antioxidant 'curcumin', which is responsible not only for the beautiful yellow color but also the following qualities:
Highly anti-inflammatory. Read about anti-inflammation in this study from US National Library of Medicine, paragraph 2, click here!
Fighting degenerative processes in the brain. Read about memory enhancement in aged rats in this study from Biogerontology, click here!
Inhibits growth of cancer cells. Read about the anticancer potential of curcumin in this study from University of Texas M. D. Anderson Cancer Center, click here!
Anti-depressive effects. Read about antidepressant activity of curcumin in this study from University Institute of Pharmaceutical Sciences, click here!
Anti-aging. Read about potential anti-aging effects of curcumin in this study from Nencki Institute of Experimental Biology, click here!
All of these studies suggest that turmeric has a potent effect in a variety of disorders and symptoms. But it is also clear that more research is needed!
While waiting there is no doubt that turmeric is healthy in the right quantities. Due to the wide variety of uses, the turmeric market has been absolutely booming of late.
For other turmeric supplements, such as e.g turmeric pills, have a look right here!
Now I will focus on two teas with turmeric, both organic and drinkable 🙂
Pukka Turmeric Gold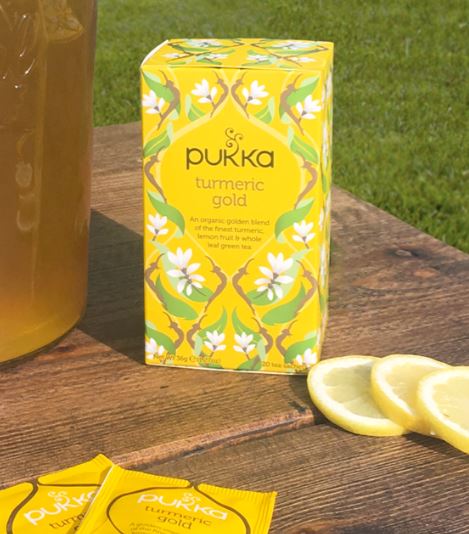 Pukka Turmeric Gold is a blend of the following ingredients:
Turmeric Root (40%), Suoi Gang Green Tea (20%), Licorice Root, Cardamom Pod, Lemon Verbena Leaf, Lemon Vana Tulsi Leaf, Lemon Essential Oil Flavour (6%), Lemon Whole (6%).
This tea has a warming not too strong turmeric taste and a nice light lemon flavour so I think most people will be able to drink it. Maybe even like it.
If not you can use it as a spice. One of Amazon's customers wrote she were using 'Turmeric Gold' in her basmati rice. And she added: "it was awesome!!" I don't know if she didn't like the tea…
So if you want to try this healthy tea and it turns out you don't like it, just throw it in your food 😀
Numi Three Roots
Numis Three Roots consists of three roots:
Turmeric root (60%), ginger root, licorice root and rose.
The taste of Numi's turmeric tea is very powerful and warming. Definitely having a stronger turmeric taste than Pukka's Turmeric Gold.
Numi has created four different turmeric teas, so it should be possible to find a variant you like.
Organic above all
Do you prefer organic food and drinks just like me? Do you also love to taste a lot of organic tea? And see what the market has to offer on organic teas?
These three things made us create our website – https://organic-tea.org/ – with only organic tea. Have a look right here!
We missed a place where to browse and search for high quality organic teas with easy-to-understand descriptions.
It is easy to find organic tea at Amazon (at least all the largest tea brands), but in our opinion the page is crowded with advertisements and you have to scroll up and down to get to the ingredient list and description.
This isn't necessary at organic-tea.org.
Our organic website also offers 70+ flavours and 10+ wellbeing options ♥